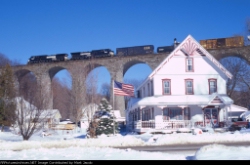 Welcome to the RRPictureArchives.NET contributor site of Mark Jacob.



Hello and welcome to my page. I'll be added albums periodically of my rail-related shots, mostly from the northeast and eastern Canada.

While I'm not averse to roster shots of interesting or unusual items, my photos tend to be an effort to capture a moment in time of the railroad scene or to tell the story of a train in it's surroundings, in a historical and geographical context. Whether it be interesting light at dusk in the St. Lawrence Valley, a snowstorm along the Southern Tier, or a crisp fall day in New England, I try to make the most of the weather, the train, and the surroundings.

Hope you enjoy what I've found as much as I enjoyed finding it! Check back from time to time and see what's new...



You may browse my collection of pictures via the menu located on the left hand side of the page. I hope you enjoy the collection and thanks for stopping by!
Note: This site is best viewed in Internet Explorer 6.0 or above.
Select one of the links from the menu on the left to begin browsing the collection.